Gail Riley featured guest chef, preparing "Chocolate
Bread Pudding" on CW2 Morning News, February 8, 2007
Pictured below with anchor Natalie Tysdal.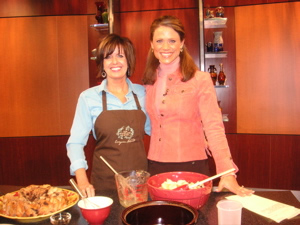 "Heavenly Breakfast Trifle" and "Chocolate Bread Pudding with
Whiskey Sauce" from Colorado Cravings featured in The Denver
Post Food section highlighting romantic recipes, February 7, 2007.

Featured in Rocky Mountain News special Food Section on
"some of the season's best cookbooks." Colorado Cravings called
"attractively illustrated" with "inventive categories." Recipes
described as "original and tasty," December 6, 2006.
Featured on Colorado Getaways travelogue show,
KCNC-TV CBS 4, February 17, 2007.
Feature story in Evergreen Newspapers, Canyon Courier, "The Book of
Love - Local Innkeeper has the Recipes for Romance"

Article in Colorado Expressions - April/May 2007 issue
3rd Best Seller at Hearthfire Books, Evergreen, Colorado.